Here's what we've been up to lately.
Ocean Fire Company No 1 First Annual Santa Claus Fire Truck Visit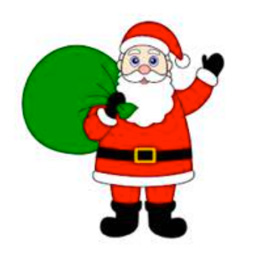 OFC would like to bring a little holiday cheer to Point Pleasant Beach residents. We will be holding our first annual Santa Claus Fire Truck Visit Fundraiser. Santa will arrive on the fire truck with lights and sirens accompanied by OFC volunteers. We ask that you leave 1 gift per child; gifts my be provided and wrapped with child's name clearly visible, then placed in a pillow case with the address to be visited on it. OFC will not be providing any gifts.

Santa visits will be Saturday December 16, 2017 starting at 11am. No specific time can be met, so please be at your home and ready for arrival by 11am.

Gift drop off is Wednesday, December 13 from 12-9pm at Ocean Fire Company No 1 - 400 Arnold Ave.
Cost per house:
$30 for 1-3 kids
$40 for 4-6 kids
$50 for 7 and up

POINT PLEASANT BEACH RESIDENTS ONLY
COST DOES NOT INCLUDE A GIFT

Click here to sign up by sending an email to OFC1Fundraising@gmail.com Please include a contact name, number of children and address to be visited.

Thank You!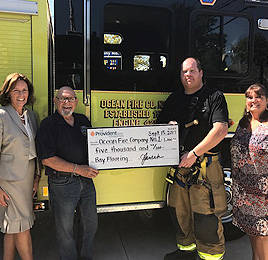 The Provident Bank Foundation is pleased to support Ocean Fire Company No. 1 with a $5,000 Community Grant. The grant aided in replacing the bay flooring on which the fire trucks are parked; the final project to restore the Fire House to pre-Superstorm Sandy conditions—nearly five years after the storm impacted the area.

Pictured (from left) are Jane Kurek, Executive Director, The Provident Bank Foundation; Paul DiCorcia, Treasurer, Ocean Fire Company No. 1; Dillon Gourley, 2nd Lieutenant, Ocean Fire Company No. 1; and Renee Petronico, Banking Center Manager, @Provident Bank, Point Pleasant branch.